End State Overreach and Restore Local Freedom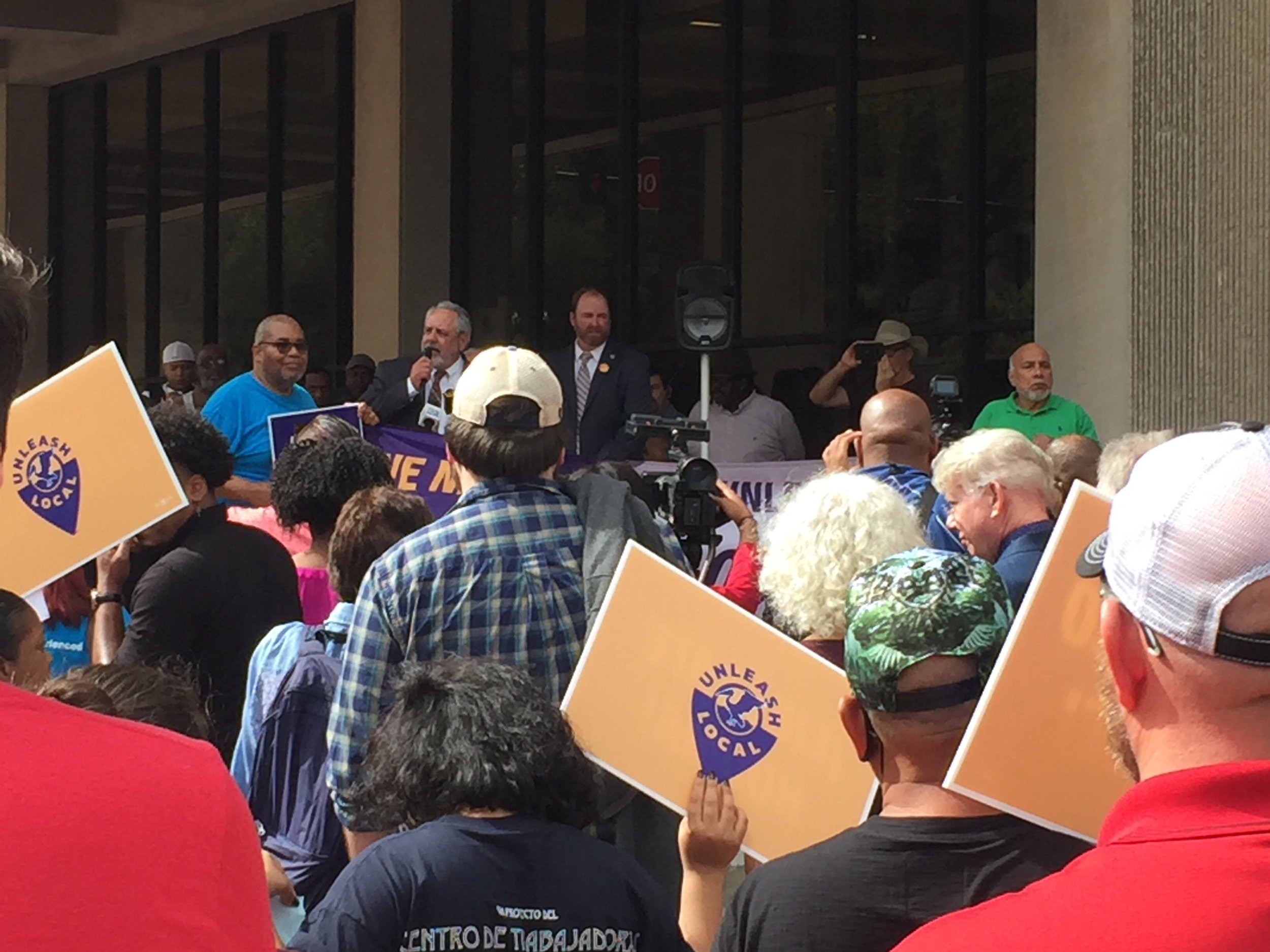 For too long, local economies in Louisiana have been strangled by state overreach. It's time to change Louisiana's heavy handed, top-down approach to government by unleashing local communities so they can have the power, freedom, and opportunity they need to grow and thrive.
SIGN THE PETITION
In May 2019, hundreds of Louisiana workers, business owners, faith, labor and municipal leaders packed the Labor and Industrial Relations Committee of the Louisiana House to support a bill that would have allowed parish and city governments to set their own minimum wage and paid leave policies. Dozens testified about the harms of poverty wages and the state law that makes it impossible for local leaders to do anything about them. Two corporate lobbyists testified in opposition and the majority of the Committee fell in line.

We need representatives who represent us. We need representatives who believe in local democracy. Sign the petition to let every candidate running for the State Legislature this year know they need to commit to standing up for workers to earn our votes.
Goals
Unleash Local is a coalition of Louisiana working families, local elected officials and community organizations fighting for local control over worker policies. We believe that local communities should have the power to decide what kind of local economy they want to build, and that local leaders should have the freedom to ensure that jobs in their communities can sustain families. We are working to change Louisiana state law—by supporting the passage of House Bill 422—to untie local leaders' hands and unleash local economies.
Currently, state law bans cities and parishes from setting many of their own economic policies, including local wage floors and paid family and sick leave policies. These bans mean that local elected officials, workers and businesses are subject to state control and are deprived of the freedom they need to make the decisions that are best for themselves and their communities. We think this needs to end.
Join us as we fight to repeal these bans and take back control of our local economies, our communities, and our future.


End state overreach
–
Louisiana is one of 28 states where local governments are banned from setting their own wage floor, and one of 23 states where local governments are banned from setting their own paid leave policies.
This heavy handed state overreach goes against the values and best interests of the people of Louisiana.
restore local control
–
Louisiana has the 2nd highest poverty rate in the US, and ranks at or near the bottom of every education, health and economic measure. Our people are hurting and it's time for a new approach.
Let's give local people the freedom to decide what's best for their own communities.
History
Louisiana has a long history of having an extremely top-down political and economic structure, with state politicians and big business interests dictating the rules that working people have to live by. This approach has resulted in generations of Louisianans being trapped in poverty and economic insecurity, whether they live in rural, suburban or urban communities.
That heavy handed approach has become even more pronounced in recent years, despite enormous public sentiment in our state against this kind of state overreach and corporate control. In 1997, the state legislature passed a law banning cities and parishes from setting their own local minimum wages. Contrary to the claims of that law's supporters, it hasn't done anything to counteract Louisiana's sky-high poverty rates. In fact, it's led to working families in Louisiana falling even further behind.
Despite the negative impacts of that original ban, in 2012 the state government went ahead and banned local control over earned leave policies, further depriving Louisianans of the freedom and power they need to build fair and equitable local economies.
Sadly, minimum wage and paid leave policies are just a couple of examples of how legislators and lobbyists in Baton Rouge have decided that the people of Louisiana are either unfit to govern themselves, or that they are simply cheap labor whose hard work should be exploited for higher profits.
Now, in 2019, we have a chance to turn the tables on the political and corporate elites who have been taking advantage of us for far too long. By supporting Unleash Local, we can tell those corporate lobbyists and state legislators that we want the freedom to decide for ourselves what's right for our communities and our families. We can tell them that those of us who are closest to the problems of poverty, inequality, failing schools and poor health care are closest to the solutions. And we can tell them that we demand our right to take back control of our lives and our futures.
Ready to join unleash local?
Find your local chapter